Pool Alarms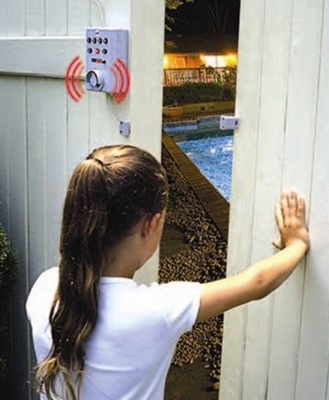 Details:
PoolGuard Item Number: PGRM-SB
Safety Buoy Above Ground Pool Alarm
POOLGUARD "SAFETY BUOY" ABOVE GROUND POOL ALARM, MODEL PGRM-SB is designed to be used in any Above Ground Pool including quick set, soft sided and portable above ground pools, as well as spas. Poolguard's "Safety Buoy" alarm is the only floating alarm NSF Certified to the ASTM F2208 Pool Alarm Standard. The "Safety Buoy" floats on the water and uses Sub Surface Detection Technology. The "Safety Buoy" comes with an In House Remote Receiver (200ft. Range), has a 1 year warranty, and is Made in the USA!
The Poolguard "Safety Buoy" functions are controlled by the units Red Key.
Silent Installation and Removal Feature: By using the Red Key, the "Safety Buoy" can be installed or removed from your pool without the alarm sounding.
Tamper Proof: If the Red Key is not used, the "Safety Buoy" will sound an alarm if its removed from your pool.
Constant Protection: Once the "Safety Buoy" is installed in your pool it is always on and cannot be turned off.
Sleep Mode: The Poolguard "Safety Buoy" must be removed from your pool when you swim. Use the Red Key to enter Sleep Mode and place the "Safety Buoy" on its storage stand away from pool activity.
The Poolguard "Safety Buoy" comes with an in house remote receiver that has a range up to 200 ft., and comes with a 12 volt power supply.
The Poolguard poolside alarm works with a 9-volt battery (not included), with a battery life of approximately one year.
Low Battery Function: The "Safety Buoy" system will beep once every 10 seconds when the 9 volt battery is low.
New sensing technology provides less chance of false alarms due to wind, rain or small objects such as sticks or toys entering the water.
Works with Above Ground pools 30' in diameter and up to 18' X 36'
The Poolguard "Safety Buoy" has been tested and certified by NSF International to the ASTM Standard Safety Specification for Residential Pool Alarms, ASTM F2208-08.
Ideal for above ground pools, soft sided portable pools and spas.
Poolguard "Safety Buoy" is designed to detect intrusions similar to a one year old child.
"Poolguard "Safety Buoy" is the only floating Pool Alarm on the market that uses Sub Surface Detection Technology"
View More Details
Details:
Smartpool Item Number PE23
PoolEye® Pool Alarm for Aboveground and Inground Pools
For Inground Pools up to 18' X 36'
Poolside and Remote Sirens
Mounts to Pool Deck or an Aboveground Pool Rail
Adjustable Sensitivity Switch
6-Month Limited Warranty
Complies with ASTM F2208
Also Sold as Namco Item Number: STP PE23
View More Details
Details:
STINGL Item Number SS-301-R24
Remote Alarm
Commercial Product
A highly-effective accessory, the Remote Alarm is available to alert pool and spa attendants and others that the SR-500 Stingl Switch has been activated. The alarm - which features a red light and a sounding device - is suitable for both inside and outside use and can be installed at any distance. View More Details
I acknowledge this is a special order item