Filter Cartridges - 3 inch Diameter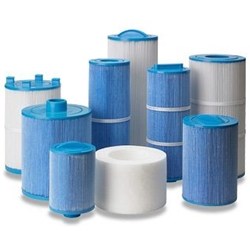 The strongest reinforced PVC center cores for even distribution of stress and increased debris loading.

High-quality polyester media ensures durability, cleanability, and efficient filtration performance.

Antimicrobial end caps – also reinforced for added strength – are treated to repel odor-causing bacteria and mold. Plus their advanced formulation resists deterioration from salt pools and high levels of chlorine.

Plus support bands are wider, for greater break-resistance and optimum flow.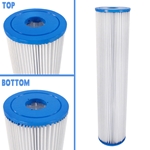 Item Number:

APCC7356
Dimensions:
Length: 14 11/16 Inches
Outer Diameter: 3 1/4 Inches
Top Style: 1/16" Open
Bottom Style: 1/16" Open
Fits 12 Sq. Ft. Sylvan
12 Sq. Ft.
4 Oz.
Compatible With:
Pleatco Ps12
Unicel C-3612
(read more...)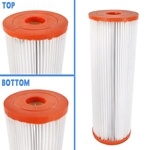 Item Number:

APCC7021
Dimensions:
Length: 9 3/4 Inches
Outer Diameter: 3 1/4 Inches
Top Style: 1 1/16" Open
Bottom Style: 11/16" Open
Fits Alcove 8
8 Sq. Ft.
3 Oz.
Compatible With:
Pleatco Ps9-4
Unicel C-3608
(read more...)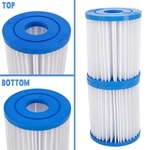 Item Number:

APCC7490
Dimensions:
Length: 3 11⁄16 inches
Outer Diameter: 3 1⁄8 inches
Top Style: 1 1⁄8" open
Bottom Style: 1 1⁄8" open
Fits Twin Pack "E" version 2 cartridges per set
2 sq. ft.
3 oz.
Compatible with:
Pleatco PIN3PAIR
Unicel C-3302
Intex 59904
(read more...)